Soluble Coffee End-To-End Solutions
Sourcing & Strategy
No matter what your requirement or vision for your product or market, LMZ can convert your concept into effective results.
Whether your goal is a traditional flavor profile or a custom product that fits your needs, we can help craft products specifically matched to your objectives.
From standard to specialty soluble coffees, from spray-dried powders to hot and cold brew liquid extracts, LMZ can tailor formulations that enhance your brands at effective costs.
Design with a Global Reach

Our product and category expertise link world-class R&D resources at origin with world-class results for your products.
Product and concept development in coffee powders, extracts and innovations are within our scope and experience.  We will effectively and efficiently work with you and your team to bring our resources – wherever they may be – to your project, concepts and goals.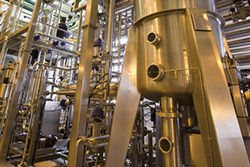 Product Development
LMZ enjoys long-standing relationships with global coffee producers in Brazil, Colombia and Mexico. Through decades of strategic collaborations with these partners, LMZ can identify optimum supply sources, as well as the manufacturing methods best suited to each manufacturer's expertise and capabilities.

Quality Control & Compliance
LMZ identifies appropriate supply chain and manufacturing methods to achieve optimum results.
Primary Areas of Focus:
Material and package handling
Product security from manufacturer to consumption
Inventory handling for products warehoused throughout the U.S.
State-of-the-art manufacturing facilities and inventory management
Quality control to ensure only the best products
Logistics & Regulatory
LMZ's complete supply chain management assures timely, accurate product deliveries. Our supply chain management, shipping, and other logistics services are supported by a network of worldwide partners.
The Following LMZ Services Facilitate Safe, Timely Deliveries — No Matter What the Destination:
Production and shipment management from point of origin
Competitive rates for all modes of transportation
Compliance with all regulatory requirements
Order tracking
Expediting of 'rush' orders
Order history analysis to assist with forecasting customers' future requirements
Customs entries, warehousing, and door deliveries